My normal morning routine is probably just like anyone else's….I wake up, get the two and four legged kiddos up out of bed, prepare breakfast for all and peruse Facebook to see what the world is up to. It was during this morning routine that I stumbled across a heartbreaking story that I would like to share with you so that I can warn my fellow pet-loving friends and clients about the dangers of an item that we all probably have laying around the house and think nothing about – snack bags (or any other bag).
You may have already viewed the story featured on Dogington Post.
I wasn't aware of the statistics but apparently hundreds of dogs annually fall victim to suffocation from snack bags left lying within reach in pet-owner's homes.
Snack bags can be added to the list of items that should not be left lying around in a home if you have a pet. If your dog is anything like mine, they are always looking for the opportunity for a snack. Some will even "counter-surf" to get at a bag left out with what they think is a tasty treat.  Once their head is stuck inside a snack bag, a dog can die within mere minutes, which was the very heartbreaking case with "Petey".
Most dog owners are already aware of the dangers of onions and chocolate, chicken bones, rawhide, and other hazards to the dogs we love as family, taking precautions to prevent access and consumption of the dangerous snacks.
But, one seemingly harmless item in every household – snack bags – are claiming the lives of hundreds of dogs every year. Once their head is stuck inside a snack bag, a dog can die within mere minutes.
Last week, Christina Young kissed her dog, Petey, goodbye before heading out for work. She never imagined it would be the last time.
Christina posted their heartbreaking story to Facebook:
Potato chip bags and pretzel bags, dog food and treat bags, bread bags, cereal box liners, and other food packaging can quickly become deadly for our fur-kids.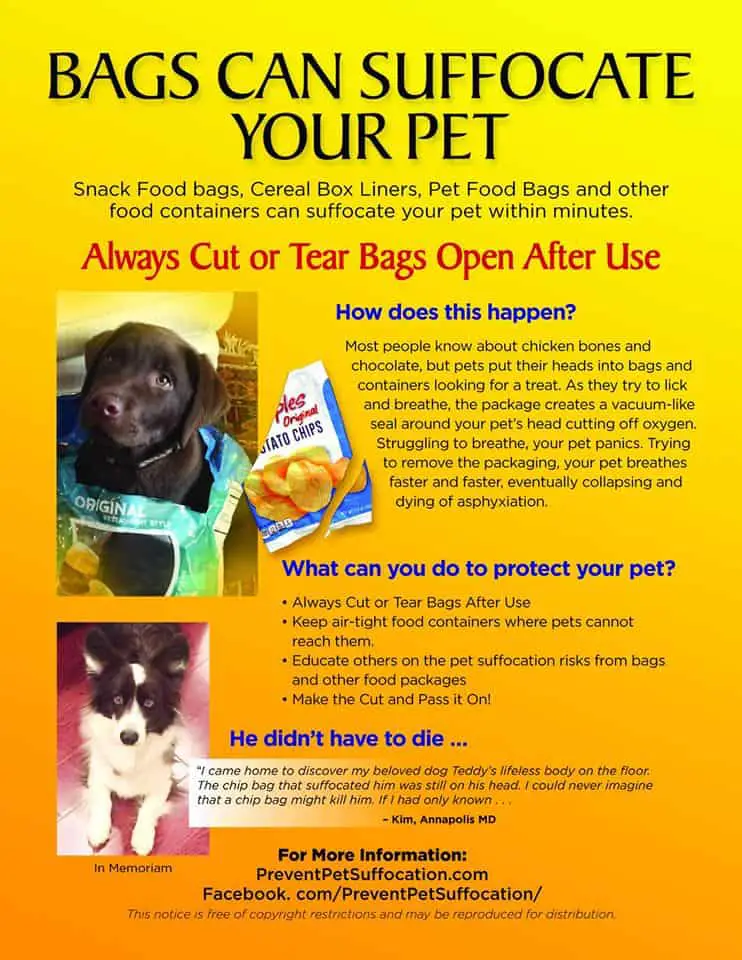 PreventPetSuffocation, a group dedicated to educating the public on the suffocation risks our pets face from chip bags and other products, was created in memory of Blue, the founder's beautiful rescue dog, who suffocated with his head trapped inside Cheetos bag.
To prevent pet suffocation, they encourage pet parents to:
• Keep snack bags and other air-tight containers safely out of your pet's reach. So many of us are guilty of clipping a snack bag closed and leaving it on the kitchen counter or a tabletop. Instead, put bags inside a pantry or cabinet, at a height you dog cannot reach.
• Always cut or tear open snack bags after use. An empty potato chip bag thrown in the trash can be deadly. Tear the bag completely open or cut it so that if your dog gets hold of it, there's no risk of suffocation.
• Educate others on the dangers of snack bags to pets. In the same way that animal lovers have learned to snip plastic 6-pack rings before throwing them away to avoid death and injury to birds and sea life, we can make it a habit to snip our chip bags to prevent suffocation in our furriest family members.
You can also visit PreventPetSuffocation.com for valuable information, shareable infographics, and to sign the group's petition to require suffocation warning labels on snack bags, in hope of preventing more pet deaths.
With just a little forward thinking, planning and care we can save the lives of our pets.
Please, pass it on.